Popular podcasts, the mighty Meta, and amazing AI advances
Welcome to the podcast revolution!
Podcasts are nothing new, but during the pandemic they have been rising in popularity exponentially. Just look at this graph which shows the growth of ebook and podcast app Audible in 2021… 256% growth so far this year. That is a crazy statistic.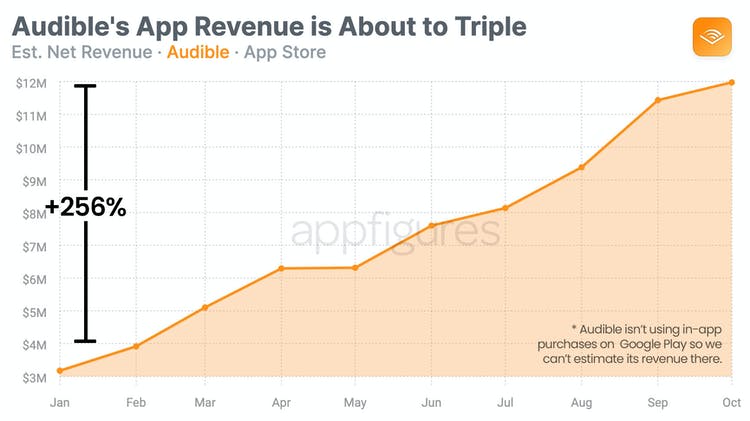 Image source: appfigures.com
Here are some popular podcasts for those of us in MedComms.
The Healthcare Comms Podcast aims to showcase people's stories within the sector. They aim to bring to life the true wins, true failures and true successes of healthcare comms. Digital Health Today is a podcast about accelerating innovation and the implementation of health technology. There is also a good list of healthcare podcasts available here.
Spotify are also expanding into the podcast and audiobook arena. They've announced the acquisition of Findaway, which is an audiobook services and distribution company, the purpose being to accelerate the addition of an audiobook catalogue onto the platform.
Meta: PR monster or brave new world?
At the end of October, Facebook CEO Mark Zuckerberg introduced Meta, as bringing together the company's technologies under one new company brand. Meta's focus will be to bring the metaverse to life. Put simply, the metaverse is where the physical and digital worlds come together. When I'm asked "what is the metaverse, anyway?" my answer so far is, everything and nothing - the metaverse is tough to explain as it hasn't been built yet. It's partly a dream for the future of the internet (a Web 3.0) and partly a combination of some current trends in online infrastructure, including the growth of gaming and real-time 3D worlds. This podcast covers the lack of a clear definition nicely.
Will life in the Metaverse leave you legless?
Ever wondered what life in the metaverse is like right now? The Wall Street Journal locked one of their journalists in a hotel room for 24 hours – and this great 7 minute video shows what it really is like. Turns out it has a high proportion of creepy guys, and distinct lack of legs!
Last week, Microsoft also kicked-off its own metaverse master plan. The company said their first part of the metaverse will be Mesh for Teams (remember those holograms?), which will be available sometime next year.
Meanwhile Niantic (the maker of Pokémon Go) launched a platform to build 'real-world metaverse' apps, with the aim of also wanting to be the future of AR glasses. Lightship is a software toolkit for building metaverse apps which is free for any developer to access.
Meta has this week also unveiled a haptic glove prototype that lets you feel VR objects using air pockets, which reproduce sensations like grasping an object or running your hand along a surface.
Never missing a trick, the country of Iceland also got in on the metaverse trend developing their very own Icelandverse. If you only have time to click on one link in this blog, make it this one!
In other news, AI advances continue to find new applications…
Plus so much other cool tech news in the last few weeks!

That's it for this month!
#WordFromTheWeb
At AS&K, one of our key values is Being Curious ‒ asking what if, why not, could we? The Word From the Web blog series is one example of how we are horizon scanning and infusing the latest innovations throughout our medical communication services. Want to learn more about how AS&K can help you stay in front of the latest trends? Contact our Business Development Director, Alana Zdinak at alana.zdinak@asandk.com today!